Making the Wines
The cellar ecosystem is an important contributor to our winemaking. We let fermentations proceed naturally and slowly. We incorporate traditional techniques, like native yeast fermentations in reds, skin contact on whites, and full natural malolactic to promote the most complex expression of our varieties.
This means minimal racking, extended lees contact, complete and spontaneous malolactic fermentation, no fining, and minimal filtration. This gentle treatment creates wines that are both approachable when young, and legendary for their ability to further unfold with age in the cellar – often for decades.
Carrying Eyrie's "gentle touch" vineyard philosophy into the winery seems only natural. Our "style" is based on picking grapes at that elusive point of maturity where true varietal characteristics are at their peak, before they become over-ripe, and in the winery we take great care not to compromise these flavors.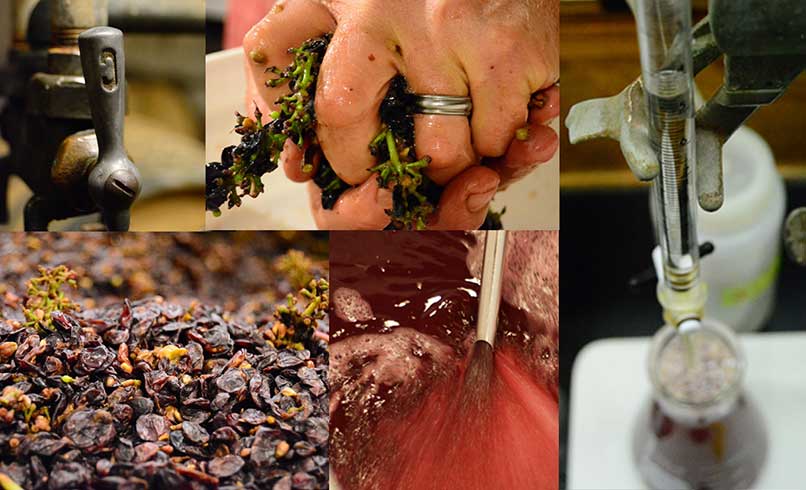 "If an alien asked me: 'What can Americans achieve?' I'd sit him down with a glass of Eyrie Pinot and a copy of As I Lay Dying." — John Atkinson, Master of Wine
Contributing factors:
Natural Temperature Control
For most of its 7000 year history, wine was made without artificial temperature control. We choose to continue that tradition – we cool and heat our fermentations not with refrigerants, but with cold night air and daytime warmth.
Micro-fermentations
Our small 650 and 1300 liter fermenters allow a high ratio of grape-to-air contact, allowing the yeast to "breathe" and easily transfer away the heat that naturally builds during fermentation. Lower fermentation temperatures ensure that the delicate aromas of the grape are not boiled off, but are preserved in the wine.
Basket Press
Our 60 year old Willmes basket press is an update of our even older wooden press, but it is still an ancient concept. A portion of all of our wines pass through this press, which gives extremely gentle and long contact to the grapes within. It is augmented with a modern pneumatic press.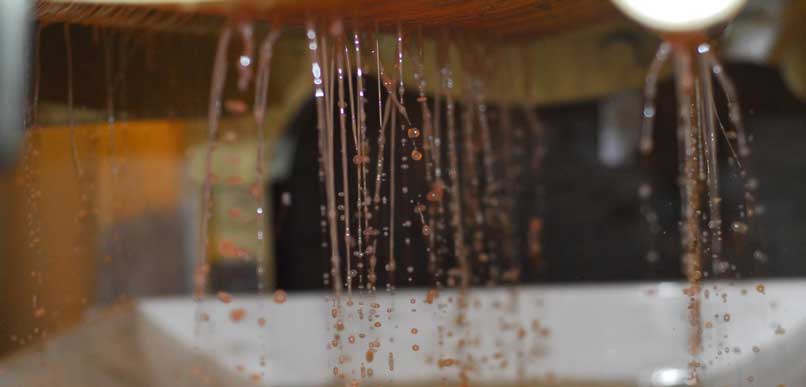 Mature Cooperage
Barrels are the perfect vessel for aging wine. As they mature, they lose the toasty flavors of their youth, but they impart a smoothness to the wines aged inside that cannot be reproduced any other way. We love this texture. But we don't love the way new barrels obscure the flavors of the grape. So as a result our new oak percentages are tiny – out of every 25 barrels in our cellar, only 1 is new.
We are still making wine in 12 of the first barrels we purchased almost 50 years ago. They are some of the oldest barrels in use in the New World, and most of the barrels in our cellar date from the 70s through the 90s.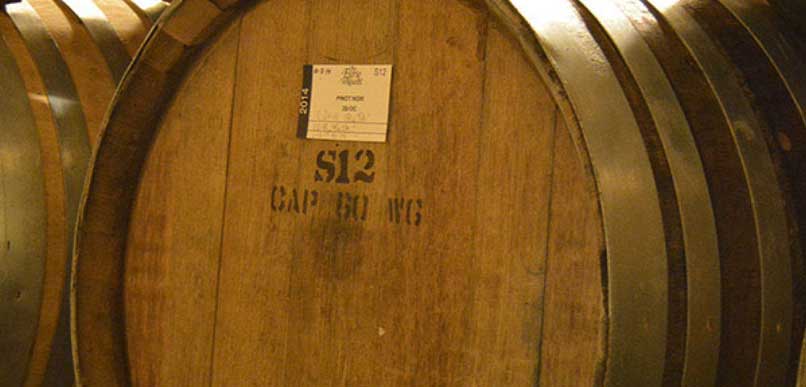 Extended Aging
Both red and white wines are allowed to fully develop before bottling. For example, our Pinot gris ages for 11 months before bottling – about 3 times as much as a typical Pinot gris. Chardonnays can age up to 18 months, and Pinot noir up to 2 years. Frequent topping keeps flavors fresh, while the extended aging period prepares the wine for long age in the bottle.
Whole-cluster Fermentation
Depending upon vintage, we employ up to 5% whole cluster fermentations in Pinot noir. We do so by taking a small portion of our fermenters to the vineyard and carefully picking directly into them. The fermenter is then brought back to the winery, given a traditional pigeage, and allowed to ferment at its own pace. Barreled and aged separately, the whole cluster contribution is carefully blended into the assemblage several months before bottling to give it time to "marry" with the other components of the cuvée.
Indigenous Yeast
Barrel-aged varieties like Chardonnay and Pinot noir typically undergo indigenous fermentation. Tank-aged varieties like Pinot blanc and Pinot gris are inoculated with a culture obtained from our own vineyards.
Indigenous Malolactic
When left to themselves, wines go through not one, but two fermentations. Alcoholic fermentation is driven by yeast converting sugar into alcohol. It is short (about 10 days long,) hot, and dramatic, with lots of bubbling CO2 and exotic smells. After alcoholic comes malolactic, which can take up to a year and is driven by non-yeast cultures like Oenococcus oeni converting the sharp, gritty-textured malic acid present in the wine into the smooth, round-textured lactic acid.
In 1974, Eyrie Founder David Lett observed a new strain of malolactic bacteria in our wines that allowed them to undergo malolactic at lower temperatures and higher degrees of acidity than any commercial strain. This natural resident of our cellar continues to contribute to every wine – including our Pinot gris and Pinot blanc. Full, natural fermentation gives our wines a remarkable stability, balance, and ageability that cannot be achieved any other way.
Special techniques
From year to year we adapt our winemaking to the vintage using traditional techniques. Depending on the vintage, we might increase the percentage of whole cluster fermentation. We might release a wine without an SO2 addition, or we might employ deeply immersive skin contact in a barrel of Chardonnay. Some vintages are perfect for a sparkling Pinot Meunier. Or we might make a Rosé of Pinot gris by fermenting on the skins like a Pinot noir. We have great grapes and a wonderful supporting cast of cellar organisms to keep everything fresh, so why not play around with new ideas?