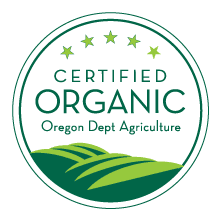 A Commitment to Place
"Sustainability" wasn't part of the wine industry vernacular back in 1965. Our founders David and Diana just felt it was the right approach to business and farming. Since the planting of the first vine, Eyrie has farmed deep. Our vineyards have never used herbicides, pesticides, tillage or irrigation. We take organic certification as merely the first step, and then we build on it.
All five of our Eyrie estate vineyards are certified organic, and two of the three local growers we purchase fruit from are also certified. The third family farm we purchase from applies the same organic farming techniques but has yet to seek certification.
Every year, Jason and his crew walk the red volcanic soil of the vineyards, visiting each one of the 50,000 vines 12-15 times throughout the 4 seasons. From pruning to harvest, the work is done by hand. The philosophy of The Eyrie Vineyards is that while we are hands-on in the vineyard, winemaking is restrained to preserve the varietal flavors and expression of the vine that we work so hard to achieve in the vineyards.
An environmentally and community conscious philosophy continues to direct the vineyard, winery, and business practices today. We strive to consider the impact of each decision we make in the vines, the cellar, or the office.
We continue to believe that a natural approach makes the best wines. By bringing new energy to our founding principles, The Eyrie Vineyards produces wines that represent the true character of the grapes…and the people who grow them.